Book: Crooked Kingdom
Author:  Leigh Bardugo
Genre: YA, fantasy
Publisher: Orion Children's Book
Number of Pages: 536
"When you can't beat the odds, change the game."
Kaz Brekker and his crew have just pulled off a heist so daring even they didn't think they'd survive. But instead of divvying up a fat reward, they're right back to fighting for their lives. Double-crossed and badly weakened, the crew is low on resources, allies, and hope. As powerful forces from around the world descend on Ketterdam to root out the secrets of the dangerous drug known as jurda parem, old rivals and new enemies emerge to challenge Kaz's cunning and test the team's fragile loyalties. A war will be waged on the city's dark and twisting streets―a battle for revenge and redemption that will decide the fate of the Grisha world.
"Crows remember human faces. They remember the people who feed them, who are kind to them. And the people who wrong them too. 
I truly enjoyed the second installment of this duology series by Leigh Bardugo. But I have to admit that it is also a book that I find extremely hard to review, because of the fact that this book has about half a dozen points of view from different characters. But Bardugo has a way of making each character fascinating that each view did not became so redundant. She has skills that kept the whole process of multiple POV more natural instead of being forced. I have read other books with tons of POV and it always comes out so contrived.
In this book, unlike the first one, the setting is mainly within the city of Ketterdam. The story picks up where it left off. Kaz and the gang came back to Ketterdam so eager to received their rewards. But instead of getting the fat reward that Jan Van Eck (the merchant who hired them) promised, they found out that Van Eck double crossed them. On top of that, he kidnapped one member of their valuable crew, holding her hostage for ransom.
The stakes just keep getting bigger in this book, plus enemies of Kaz and the gang just increased in number. It was definitely a roller coaster ride that will leave you breathless. One of the things I liked in this book is the fact that you get to know more of each characters, their emotions, fears, dreams/hopes and what they had been through.
Has she really thought the world didn't change? She was a fool. The world was made of miracles, unexpected earthquakes, storms that came from nowhere and might reshape a continent. 
To sum it up, the book is not only about the crazy non-stop action of gun fights/acrobatics, genius schemes and revenge. It was also about family, friendship, trust/loyalty, love and camaraderie. I actually shed some few tears (don't judge me) most especially towards the end. It definitely deserves all the accolades it got.
Although, I was craving for more, I have to admit it ended perfectly. An epic conclusion to an awesome series. I rarely give five stars and this book deserves way more.
So overall, I give this book 5 stars.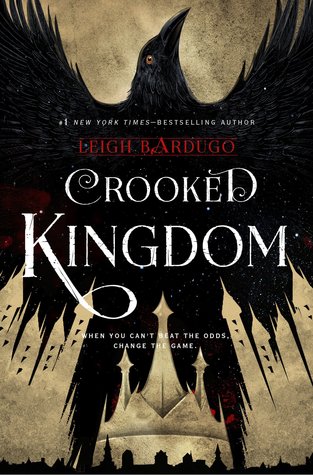 That's it for this week, my dear readers. Please like, comment, and follow this blog for more book updates. Have a great week, everyone.